Dentures
What are dentures?
Dentures, also known as false teeth, are prosthetic devices constructed to replace missing teeth and restore the smile.
If you've lost your natural teeth, whether from tooth decay, gum disease or injury, replacing missing teeth will not only benefit your appearance, but also your health. Dentures make it easier to eat and speak better than you could without teeth—things that people often take for granted.
A denture can helps patients to properly chew food, a difficult task when you are missing teeth. In addition, a denture may improve speech and prevent a sagging face by providing support for lips and cheeks.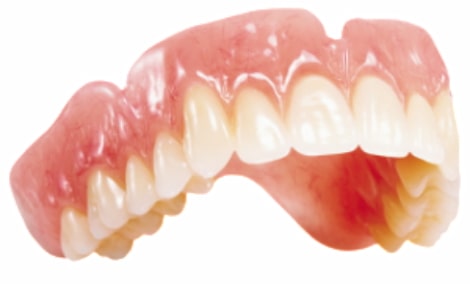 Types of dentures
Improved looks boost confidence in the ability to interact socially.
Many patients are able to tolerate this arrangement quite well
It's important to note that part of the word "removable" includes the word "MOVABLE."
Dentures move
Dentures are removable devices.
Conventional
This full removable denture is made and placed in your mouth after the remaining teeth are removed and tissues have healed, which may take several months.
Immediate
This removable denture is inserted on the same day that the remaining teeth are removed. Your dentist will take measurements and make models of your jaw during a preliminary visit. You don't have to be without teeth during the healing period, but may need to have the denture relined or remade after your jaw has healed.
Overdenture
Sometimes some of your teeth can be saved to preserve your jawbone and provide stability and support for the denture. An overdenture fits over a small number of remaining natural teeth after they have been prepared by your dentist. Implants can serve the same function, too.
Some patients require more retention (staying-put power). The answer often is to use Dental Implants in conjunction with the denture. With implants, dentures can become virtually rock-solid in the mouth.
Family Dentistry
of San Antonio
OFFICE HOURS
Mon: 10:30 AM – 07:00 PM
Tue: 08:30 AM – 05:00 PM
Wed: 07:30 AM – 03:30 PM
Thu: 08:30 AM – 05:00 PM
Fri: 07:30 AM – 02:00 PM
7072 Bandera Rd San Antonio
(210) 684-6822