End of the year Invisalign Special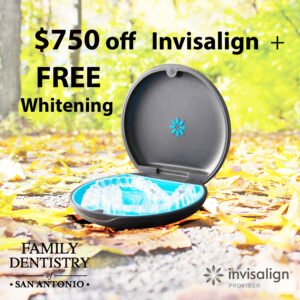 We are offering $750.00 off the cost of Invisalign treatment along with complementary whitening if you start your treatment before the end of this year!
Have you been considering fixing your teeth, but refuse to wear braces? Fortunately, we have a solution for you through Invisalign. Invisalign is a series of clear aligners that gradually move teeth into proper position utilizing the latest technology.
Dr. Zebrowskis and Dr. Lima have the ability to combine their Invisalign expertise with their ground breaking cosmetic dentistry skills, while utilizing the latest technology in the iTero. That sets our doctors apart from everyone else.
This time of year brings out the best in us. And now you can bring out the best in yourself, or a loved one, with the gift of a straight, beautiful smile through Invisalign. As a gift to our patients, we want to provide you the smile you have always wanted at our special holiday price!
Fill the contact form below, or call us at (210) 684 6822 to schedule your appointment for a FREE consultation!